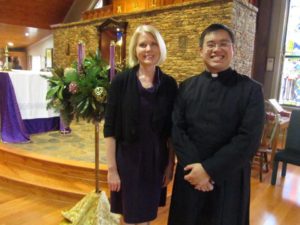 Bridget Scott is the director of liturgical music at Our Lady of the Mountains Church in Jasper, Ga., and chant instructor at the Monastery of the Holy Spirit in Conyers. She holds a degree in education and has taught music to Catholic school children since 1984.
Bridget is a proponent of the Ward Method of Music Instruction, which she utilizes with both her youth and adult choirs to great success.
Devoted to the revival of chant in the liturgy, Bridget founded the Schola Cantorum of North Georgia in 2009 and organized the first Sacred Music Workshop to be held in the state. She currently runs the Saint Ambrose School of Chant, whose mission is to promote Sacred Music in every parish.