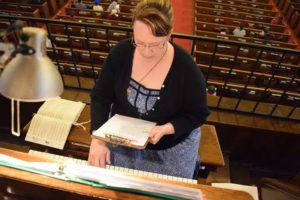 Andrea Shepherd Tierney, a convert to Catholicism and a professed Third Order Secular Franciscan, serves as organist and music teacher at the Basilica of Sts. Peter and Paul in Chattanooga, Tennessee. She holds a Bachelor of Music in piano performance from the University of Tennessee, Chattanooga and has extensive Suzuki training. With 30 years of teaching experience, she enjoys working with students of all ages and loves the challenge of presenting concepts in a way that all students will obtain success.
The transition from pianist to organist has been challenging but very rewarding. One of Andrea's greatest loves is practicing organ in the presence of Jesus in the Blessed Sacrament. She knows that becoming an excellent Catholic organist will take many years of dedicated study, but in the presence of Jesus and trusting in Him, all things are possible.
Andrea served for more than a decade at Cadek Conservatory, where she was the the Suzuki piano coordinator and recital coordinator. She is an active member of the Chattanooga Music Teachers Association and the Chattanooga Chapter of the AGO.
Andrea maintains a private piano studio in her home and at the Basilica of Sts. Peter and Paul. She resides with her husband and children in Chattanooga.